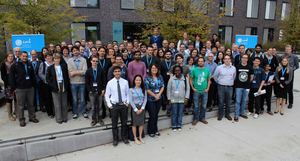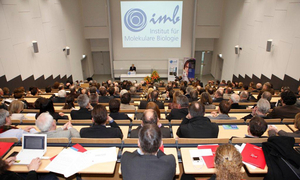 IMB's Communications and Events Office organises a wide range of events, where outstanding scientists can share and discuss the latest research and techniques. These include the institute's annual Conference, the international Seminar and Lecture Series, workshops, meetings and other institutional events.
Furthermore, they support IMB researchers in hosting their own events by:
Helping to find funding for events
Managing events, including the invitation of speakers, arranging their travel, booking and preparing venues, advertising the event, managing registrations and participants, catering etc.
Offering on-site administrative and technical support
Managing post-event matters
In addition, the Communications and Events Office handles IMB's press and public relations.
We keep people up to date with news bulletins, social media announcements through Facebook, Twitter and LinkedIn as well as maintaining our alumni network, organising outreach events for the wider public and developing IMB merchandise.
Please visit our webpage for more details about upcoming seminars and events at IMB.
For further information regarding events management or press and public relations at IMB, please contact:
Mary R. Montemayor-Hielscher
Head of Communications & Events
Email
Anja Maschitzki
Scientific Events Manager
Email
Franziska Hensel
Scientific Events Manager
Email
Nina Knoll
Scientific Events Manager
Email