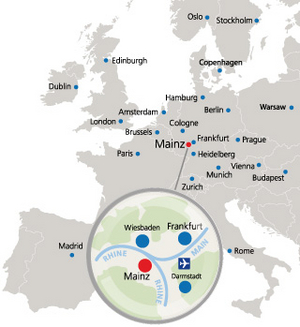 Conducting research in the heart of Europe
IMB is embedded in a strong and dynamic research environment in the heart of Europe. Germany is one of the top places in the world to conduct research and is home to a number of excellent universities and well-funded research institutes. More information regarding the German research landscape can be found on the Euraxess website.
Local connections
IMB is located in Mainz, on the campus of the Johannes Gutenberg University, just west of the city centre. With 10 departments, 150 institutes and 38,000 students, Johannes Gutenberg University is one of the largest German universities, and the largest campus university in Germany.
In biomedical research, the University has built strong, interdisciplinary centres dedicated to neuroscience, cardiovascular medicine, immunology and oncology. The University Medical Centre, which is located near the main university campus, has a strong focus on clinical and translational research and has researchers who also work in close contact with IMB.
In addition to the University, IMB has two Max Planck Institutes (the Max Planck Institute for Chemistry and the Max Planck Institute for Polymer Research) and Mainz's University of Applied Sciences as immediate neighbours.
Scientific career networks
IMB takes an active part in initiatives to promote and strengthen scientific research and collaborations in the region. These include: