Meeting & Symposium | External
First Life Sciences Postdoc Symposium Mainz
Are you a life science postdoctoral researcher working in Mainz, Frankfurt or Darmstadt? Do you want to broaden your professional network, exchange scientific ideas with other local scientists and learn how to advance your career?
Then join the 1st Life Sciences Postdoc Symposium Mainz.
The event is open to all postdocs and staff scientists working in the Rhine-Main area, and will feature:
Science Slam by local postdocs
Career Talk on strategic career planning in academia & beyond
Panel Discussion with science & industry leaders
Networking opportunities with fellow postdocs & staff scientists in the Rhine-Main area
This one-day symposium brings together local postdocs and staff scientists to strengthen scientific networks and exchange ideas. It is organised by IMB postdocs.
The career development session will feature a career talk and a panel discussion with leaders in academia and industry, who will share their experience and discuss career challenges and solutions for young researchers. Participants will learn how to grow in their careers as the scientific leaders of tomorrow.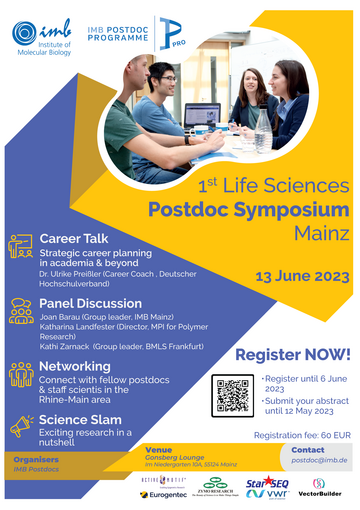 Location:
External/Off-site
Deadline(s):

Registration: 06 Jun 2023
Abstract submission: 06 Jun 2023
Contact:
postdoc(at)imb.de